Regional multi-stakeholder dialogue in the Latin American and Caribbean Region - Report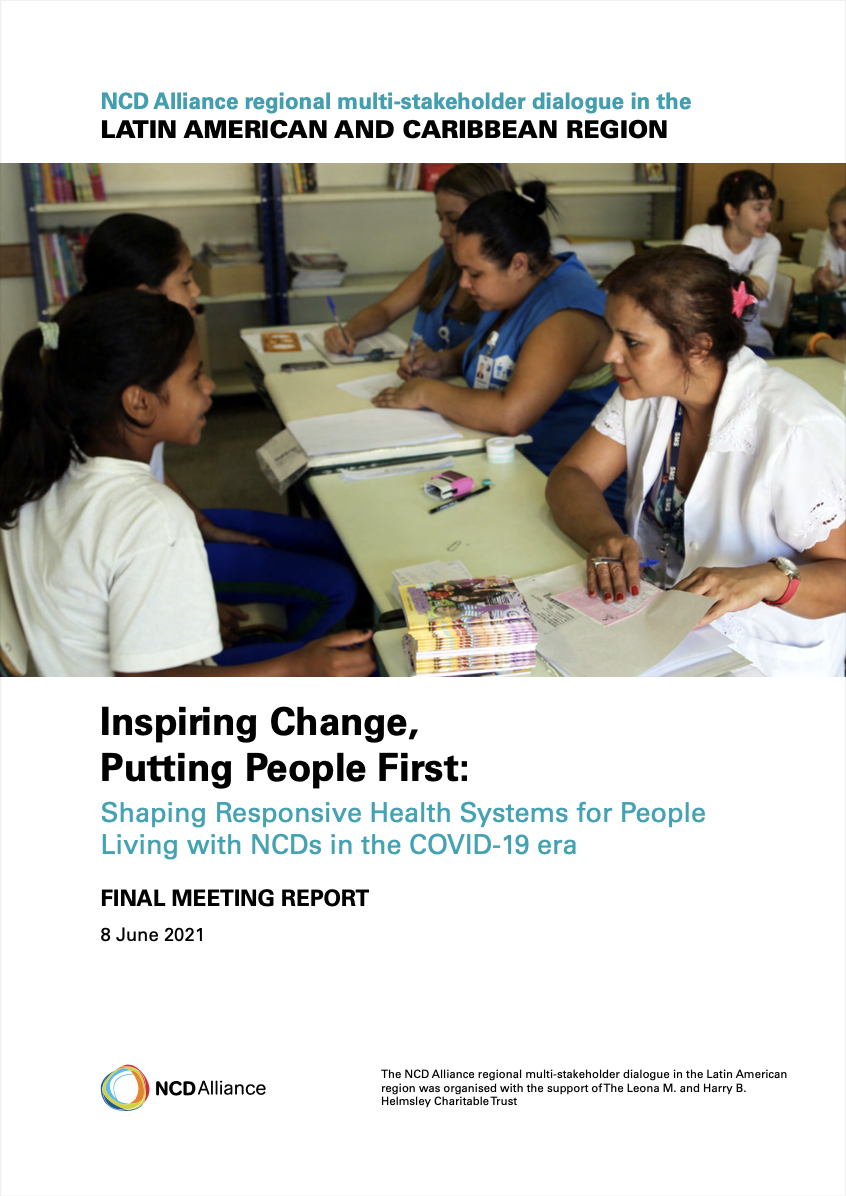 Regional multi-stakeholder dialogue in the Latin American and Caribbean Region - Report
PublishedDec 2021
AuthorNCD Alliance
Description
The NCD Alliance regional multi-stakeholder dialogue in the Latin America and Caribbean region is part of a series of regional dialogues held by the NCD Alliance. This dialogue gathered representatives from the private sector, governments, multilaterals, people living with NCDs, and NCDA member organizations. These series of regional dialogues aimed to discuss region-specific people-centred approaches to address NCDs and transform healthcare systems in order to build back better and fairer after the COVID-19 pandemic.
The dialogues, held in Latin America, Africa, Southeast Asia and the Eastern Mediterranean region will contribute to the Global Charter on Meaningful Involvement of People Living with NCDs. The Charter seeks to provide a shared understanding of meaningful involvement of people living with NCDs, its importance, key principles and strategies for implementation; contribute to a growing knowledge base on meaningful involvement of people living with NCDs, increasing understanding of its impact as well as enablers and barriers to its advancement; increase commitment to embed meaningful involvement of people living with NCDs in organizational practices, with governments, multilaterals, relevant private sector and civil society organizations called upon to publicly endorse and sign on to the Global Charter; and provide an accountability process on advancing meaningful involvement of people living with NCDs with periodic reporting required from endorsing organizations on actions undertaken, challenges faced and lessons learned in implementing the Global Charter.
The multi-stakeholder Latin America and Caribbean virtual dialogue held on 8 June had representatives from PAHO, UHC2030, the Healthy Caribbean Coalition, Mexico SaludHable, Healthy Latin American Coalition (CLAS), Viatris, the Helmsley Charitable Trust, the American Heart Association, the Ministry of Health of Costa Rica, and people living with NCDs from Mexico, Guyana, and Brazil. Also, the dialogue had 106 participants from all over the Latin America and Caribbean region.
Subscribe to our newsletter
Sign up to receive updates about Our Views, Our Voices
Check out our new ourviewsourvoices.org website and find out how people living with #NCDs are driving change in their communities and globally #NCDvoices