Launch of the Vietnam Advocacy Agenda for People living with NCDs for NCDs policies
Image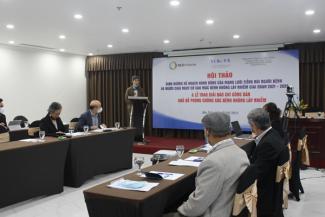 The network of People Living with NCDs in Vietnam coordinated with the Vietnam NCD Alliance has launched 'The Vietnam Advocacy Agenda for People living with NCDs for NCDs policies' following a year-long consultative process.  
Drawing from the Our Views Our Voices initiative, the core objectives of the Advocacy Agenda is to identify the shared needs, challenges and priorities of people living with a range of NCDs in Vietnam and promote their meaningful involvement in Vietnam's NCD response.
Over 170 people living with NCDs were involved in an online consultation and three community conversations between April and August 2020 to discuss their experiences of managing NCDs. The draft of the Vietnam Advocacy Agenda was finalised through a series of consultative workshops involving people living with NCDs and representatives of NCDs-VN.
Image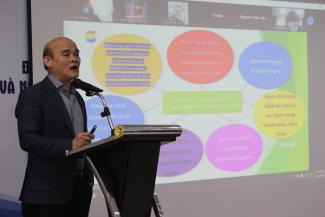 On February 23, 2021, Vietnam NCD Alliance (NCDs-VN) in collaboration with its network of people living with NCDs (PLWNCDs-VN) organised a multi-stakeholder workshop titled 'Proposed Action Plan for People Living with NCDs Vietnam Network in the period of 2021 – 2025' to introduce the Vietnam Advocacy Agenda. During the workshop, the Head of Deputy of Department of Legal Affairs, Ministry of Health emphasised the rights of citizens to be protected and cared for and how people living with NCDs must be at the center of the policy and law implemented on medical examination and treatment.
The workshop was also utilized as an opportunity to award winners of a writing contest themed on 'Voice of people living with NCDs'. The contest featured stories from 32 individuals with lived experiences, sharing their challenges of navigating NCD treatment, care and support in Vietnam. The workshop sets the stage to further the Vietnam Advocacy Agenda of People Living with NCDs and call for action on NCDs.
Image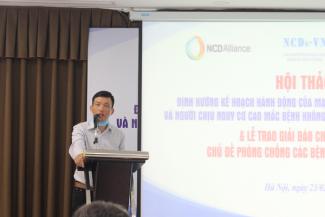 The Vietnam Advocacy Agenda amplifies the voices and recommendations put forward by people living with NCDs in the key areas of: human rights and social justice; prevention; treatment, care and support; and meaningful involvement. Among other priorities, the Vietnam Advocacy Agenda specifically highlights the need to regulate air pollution by appropriate health and environmental agencies, to strengthen prevention strategies and to ensure access to healthcare for all.
Download the Vietnam Advocacy Agenda for People living with NCDs for NCDs policies
Subscribe to our newsletter
Sign up to receive updates about Our Views, Our Voices
Check out our new ourviewsourvoices.org website and find out how people living with #NCDs are driving change in their communities and globally #NCDvoices