Community front and centre of the response: Global Charter on Meaningful Involvement and Global Week for Action on NCDs launched today
Image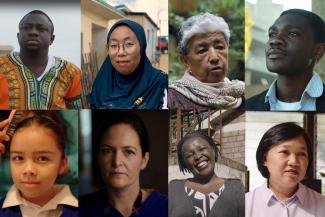 NCDA launched today the inaugural Global Charter on Meaningful Involvement of People Living with NCDs, aiming to harness the value of lived experience in health policy, programming, and decision-making. 
Media Release
Monday 6 September 2021, (Geneva, Switzerland) - The NCD Alliance launched today the inaugural Global Charter on Meaningful Involvement of People Living with NCDs (Global Charter), aiming to harness the value of lived experience in health policy, programming, and decision-making. The launch coincides with the Global Week for Action on NCDs, which this year focuses on the power of communities to drive change for better health. The Global Charter was developed through extensive consultation with the NCD community around the world. NCDs, including illnesses such as hypertension, diabetes, cancer, mental health conditions and cardiovascular disease cause more than 70 per cent of global deaths, killing some 41 million people each year.
"The past four decades of HIV/AIDS has demonstrated just how key affected communities have been in the response to that disease," said Anne Lise Ryel, President of the NCD Alliance and advocate with lived experience of cancer. "And the past 18 months of the COVID-19 has brought home just the opposite - that the absence of strong community voices during the pandemic has made millions of people more vulnerable to the coronavirus.
"If we are to mount an effective public health response to the world´s biggest killer diseases then we need to ensure that people living with NCDs are an equal partner with government, the scientific community and the private sector in that response. The Global Charter can help us get there", said Katie Dain, CEO of the NCDA Alliance.
The Global Charter lays out 10 key strategies to guarantee that the voices and concerns of people living with NCDs are considered in the response to the epidemic. It underlines that meaningful involvement is crucial at all stages – from design and planning, through to implementation, monitoring and evaluation of NCD initiatives. The Global Charter is now open for endorsements from civil society organisations, governments, international partners and the private sector.  Progress on meaningful involvement will be tracked and key successes showcased.  
Report Launch: From siloes to synergies
There is an urgent need to better understand how integrated services can be supported in practice and what has worked, or failed to work, from the perspective of programme implementers and target populations. The policy research report "From siloes to synergies: leveraging global health wins for sustainable, person-centred healthcare systems" focuses on the integration of NCD services into global health financed programmes.
Through analyses of data from an online survey, interviews, and a targeted literature review, this report brokers knowledge by showcasing examples of where global health financing mechanisms have supported provision of cost-effective NCD prevention and care services, and in so doing, supported progress towards Universal Health Coverage. To be launched on Thursday 9 September, during the Global Week for Action on NCDs. Stay tuned to #ActOnNCDs for more updates. 
"Facing Forward": new audiovisual series
After the outstanding performance of the Turning the Tide series, reaching 128.5 million impressions across BBC.com audiences from February 2020 to February 2021, the NCD Alliance and partners are now launching a second series, Facing Forward produced by BBC StoryWorks. This second series will continue to raise awareness of NCDs and highlight the stories of people who are living with NCDs across the globe, as well as those of the communities, institutions and private sector who are leading the way to prevent and control NCDs.
Facing Forward is a series of 25 short films and 10 articles from Lebanon, Ghana, Guinea, Brazil, Colombia, Peru, Kenya, Thailand and the Pacific Islands, amongst other countries. The pre-launch of this campaign will take place on 8 September, during the Global Week for Action on NCDs, and the first set of short films will be published on 28 September. A second set of mini films will be published on 17 November 2021. The Facing Forward campaign will continue over 12 months. All the short films and articles will be available on both BBC.com and ncdalliance.org. Register for the launch event on Tuesday 28th September from 13:00-13:45 GMT here. 
***ENDS***
Further information: 
Michael Kessler, 
NCD Alliance Media Relations 
Mob: +34 655 792 699 
Email: [email protected]
About the NCD Alliance
The NCD Alliance (NCDA) is a registered non-governmental organisation (NGO) based in Geneva, Switzerland, dedicated to supporting a world free from preventable suffering, disability and death caused by noncommunicable diseases (NCDs). Founded in 2009, NCDA brings together a unique network of over 300 members in more than 80 countries into a respected, united and credible global civil society movement. The movement is unified by the cross-cutting nature of common risk factors including unhealthy diets, harmful use of alcohol, tobacco smoking, air pollution and physical inactivity, and the system solutions for chronic NCDs such as cancer, cardiovascular disease, chronic lung disease, diabetes, mental health and neurological disorders.
Subscribe to our newsletter
Sign up to receive updates about Our Views, Our Voices
Check out our new ourviewsourvoices.org website and find out how people living with #NCDs are driving change in their communities and globally #NCDvoices